Total Gut Health Supplement: If you're looking for a gut supplement that's easy to absorb, all-natural, contains a balanced blend of enzymes for digestion and is gluten free too - LevelUp's Gut Superfood is the pick for you.
Unique Blend of Prebiotics + Probiotics + Postbiotics: Unlike most other probiotics for digestive health, this fiber supplement contains a unique blend of prebiotics, probiotics and probiotics. This supports healthy gut microbiomes and bacteria and also builds a healthy gut environment.
Heals Long-Term Digestive Issues: This gut health supplement is a tri active probiotic that works to resolve your long-term digestive issues and reduce stomach inflammation. Packed with naturally occurring digestive enzymes, this high fiber supplement is sure to be your go-to supplement for a healthy, strong gut.

Good Bacteria
Supports a superior gut environment with pre, pro, and postbiotics along with lactobacillus; an ecologically, and metabolically diverse species of good bacteria.

Digestion
Complete with a full spectrum of digestive enzymes to help you digest better and reduce bloating.

Better #2s
Gut Superfood™ is packed with specialty fiber called XOS (xylooligosaccharides) and polyphenol-rich whole food fiber that'll surely notice getting to work ;)

Immunity
Whole body health starts at the gut. Improving gut health overall improves nutrient absorption and your body's own defense system.
Product Highlights

100% Functional Ingredients
LevelUp Gut Superfood™ is made with only 100% functional ingredients. Meaning we use absolutely ZERO fillers, flavors, sweeteners or additives of any kind. It naturally has a slightly tart flavor with a natural mild sweetness.

Total Gut Health Formula
Most products on the market will simply contain only 1 or 2 ingredients. While these products may be affordable, they do not address the diverse environment that the gut is. Gut Superfood™ is a true all-in-one formula.

Shelf Stable
Our formula is stable at room temperature and does not need to be refrigerated (although it doesn't hurt!). Take it anywhere with peace of mind.
Morning
Take Gut Superfood first thing in the morning in your favorite smoothie to kickstart your day with superior gut health.
Evening Meals
Gut Superfood can be taken after meals to support digestion and reduce bloating any time of the day.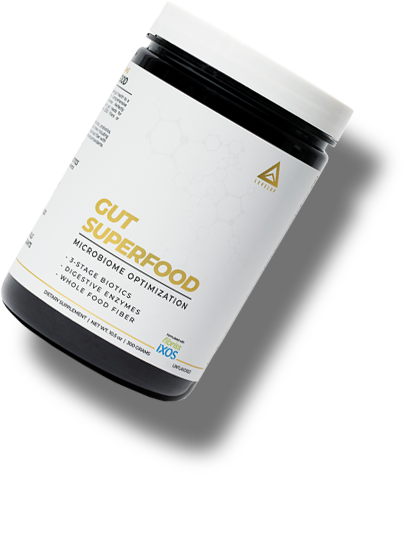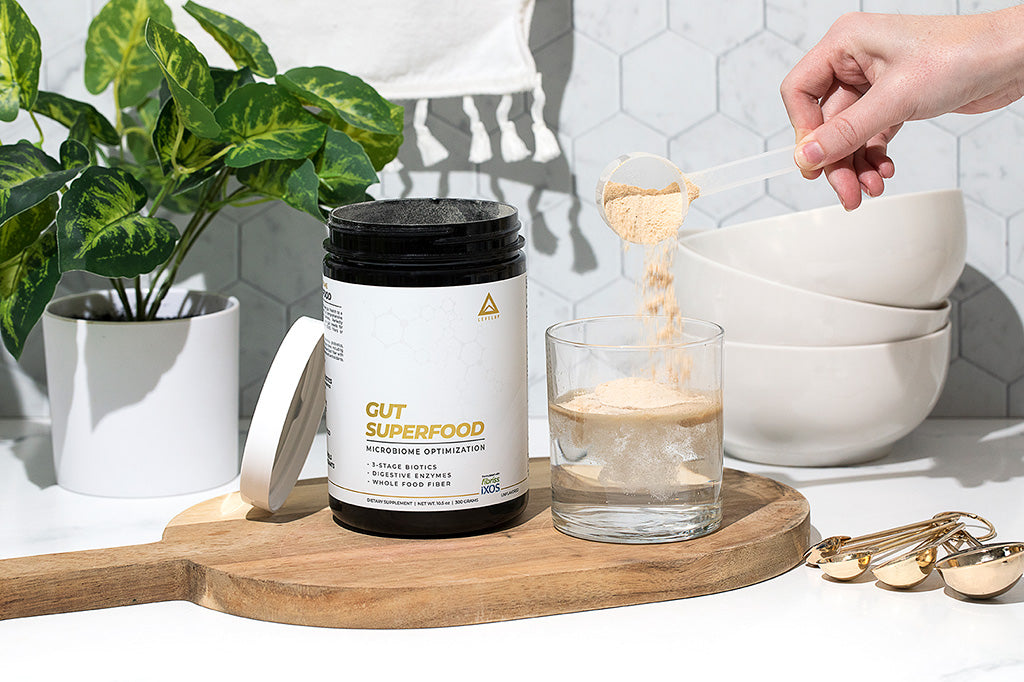 I absolutely LOVE this product! I noticed the benefits almost instantaneously. Definitely keeping this a part of my daily regimen.
-Verified Customer